J.C.W. West has written a small jewel of a book that, in the context of revisiting Pascal's famous wager, does so much more. In the able hands of West, the infectious joy of Christianity is made manifest to the reader, whether believer or unbeliever, in logical argument and in heartfelt stories. No Christian-lite here, no postmodern rendering of the "christian myth" to make it acceptable to Western sophisticates--here West weaves The Christian Myth in all its orthodox glory while challenging the reader to accept Pascal's wager. Accept it because, as Lewis asserted, it's the myth that is true, or accept it for its benefits and blessings! West's own enthusiasm and passion for saving faith, with the attendant joy the Myth brings, is in itself something of a living apologetic for Pascal's argument. Believers will read prose expressing their experience of the Christian faith and unbelievers just might be moved to accept the wager.
Philip Bowers, Ph.D.
Professor and former Chair, Mathematics Department
Florida State University, Tallahassee, Florida

In God's Odds: Pascal's Wager Revisited the author expounds and expands Pascal's famous "Wager" with wit, whimsy and penetrating insight. We are all putting our lives on the line, wagering on God as revealed in Jesus Christ one way or the other. Read this book and you will find clear and profound reasons to make the right wager.
The Right Reverend John H. Rodgers Jr., Th.D.
Dean and President Emeritus
Trinity School for Ministry, Ambridge, Pennsylvania

God's Odds: Pascal's Wager Revisited, J.C.W. West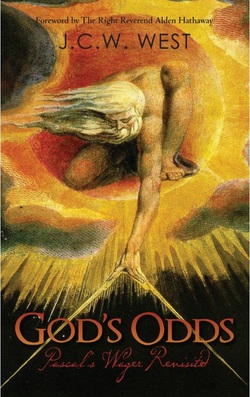 Available through Amazon.com, your local bookseller (ask!), and other venues.
The author is available for selected book signings and presentations.

Excerpt:

Christianity isn't a philosophy, a set of ideas.
It isn't a path of spirituality. It isn't a rule of life.
It isn't a political
It includes and indeed gives energy to all those things;but at its very heart it is something different.
It is good news about an event which has happened in the world,an event because of which the world can never be the same again.
And believe it and live by it
will never be the same again either.

N.T. Wright [i]
But is there a God at the heart of Christianity? Christianity is good news, as N.T. Wright points out, only if it is undergirded by the God of Abraham, Isaac, and Jacob, the God and Father of our Lord Jesus Christ. And this God's existence is good news to us as individuals only if we put our money on his number—bet everything on him.
What is the chance that it is this God who made the universe and all that is therein? Poor to none? Or are God's odds so overwhelming that we'd better believe it? Either there is a God who made Heaven and earth and everything else, or there is no such being.
What if we bet that God does not exist? We have a fifty-fifty chance of being right, don't we?
No. It only
seems
to be a fifty-fifty chance. If there are fifty-two cards in a normal deck of cards, and you draw a card, it is either the jack of diamonds or not the jack of diamonds. But it is obvious to any idiot that the odds of drawing the jack of diamonds are not fifty-fifty. Drawing a not-the-jack is much more probable. There are fifty-one other cards in that deck–-and quite a few more cards in God's deck, too.
The present discussion focuses on the subject matter of a short essay by the French Enlightenment philosopher Blaise Pascal ("Blĕz Pas
-cal'
").
Instead of the questions of Intelligent Design or the
nature
of God's existence, we focus here on the
odds
of God's existing—is there a God or not?—and the very practical issue of
how we should bet
.
Nor do we probe deeply here into the mathematics of probability, which remain a dark mystery to the author. There is plenty of fodder for discussion at the level a former English major can understand. I can handle a fifty-fifty chance, and astronomical odds. Between those is a dangerous cloud for me, and I don't venture into trying to discuss what it hides.
The physics of Heisenbergian indeterminacy is said to imply that it is not only we who are taking bets on God's existence, but that the universe itself is a gamble—God as creator, as it were, gambling at the sub-atomic level with the universe. Einstein, on the other hand, is rumored to have assured us that God doesn't play dice. God's alternative to leaving things to chance is simple: Cheat. That is to say, construct your own universe, just like you want it! Sidestep chance completely.
So make a universe from scratch. How? Just speak it into existence. You can even, if you choose to, create its inhabitants in such a way that they can be aware of your existence as their creator. Make them to love you and worship you. One step more wonderful than that: make them so they have a choice to love you or
not
to love you and worship you. And then inspire them to love you, in spite of the odds.
Who can speak things into existence, and make it actually happen? King Canute tried it on the tides of the ocean, but no dice. I have tried it on occasion with equal success. In The Mind of the Maker, the mystery writer Dorothy Sayers makes an analogy between novelist and creator that both sheds light on the process and obscures the distinction. She attests to the seeming free will of the characters she creates in her novels. But she glides past the distinction between the very limited character in a novel and the flesh-and-blood-and-soul person that she herself is--made by the Mind of the Maker.
This distinction is magnificently executed in a book I read some time ago and have lost, about a little girl who is a character in a novel. Her life consists only of episodes in the novel. She has no knowledge of anything not in those episodes. Walking along the beach some months ago I was struck by the impossibility of describing a real, living person. Even the seemingly simple act of taking one step entails so many inner workings of the human body, so many social workings of the human community, and so many idiomatic workings of the human soul (whatever that is) that a long, boring book could be attempted to describe only one step, much less an entire person. And even then all cannot be created by the author. The creatures of our authorial minds are poor shadow of the creatures we actually are.
The only force said to have actually accomplished the creation of an actual person is that lovable geek we call God. Without his creating them, not just people and animals, but nothing would be anything at all. Recall the singularity that gts Big Banged into kajillions of proto-atoms. Then recall the law of entropy, from high school physics? Isaac Asimov points out, "All you have to do is nothing and everything deteriorates, collapses, breaks down and wears out , all by itself –-and that is what the Second Law [of Thermodynamics] is all about."
[ii]
Entropy says that matter in a closed system tends toward chaos. If it starts chaotic, it stays chaotic. It doesn't naturally organize itself into complex systems such as stars and planets, much less into plants, animals,and Political Science Departments. Organization requires outside intervention,
design, maintenance, gardening, creativity, and someone doing the laundry. The universe meets those requirements: We're here.
The creator cannot be merely part of His own universe. A novelist cannot be part of his own book. He could write a character into his novel, and call him by his own name, but even in an autobiography the character is less than a whole person. Just as the novelist has more dimensions, and is greater in sheer quantity of information than any of his characters could possibly be, the creator would have to be greater than matter, more brilliant and powerful, to have spoken material things into existence. And he can devise ways to communicate with his creatures—us—to tell us about himself and about what he wants us to do. Perhaps he was bored at the idea (we gratuitously attribute motives to him) of making a universe of creatures designed simply to love him and worship him and to do nothing else, so he gave us the ability to refuse to worship him.
If anyone wants to hypothesize that there are more universes than ours, go ahead. With a leap of faith beyond any evidence, we can imagine that the creator is brilliant enough so that he can have spoken into being many universes -- one in pastels, one in oils, one in the key of G#, one in the key of d minor, each with a different choreography. We can have no knowledge of them at all, unless He gives us inklings of them. In poetry, I assume. Set to music, surely. We can only know what our maker allows us to know about himself and about our own universe—and we haven't reached the end of that yet, by a long stretch.
---